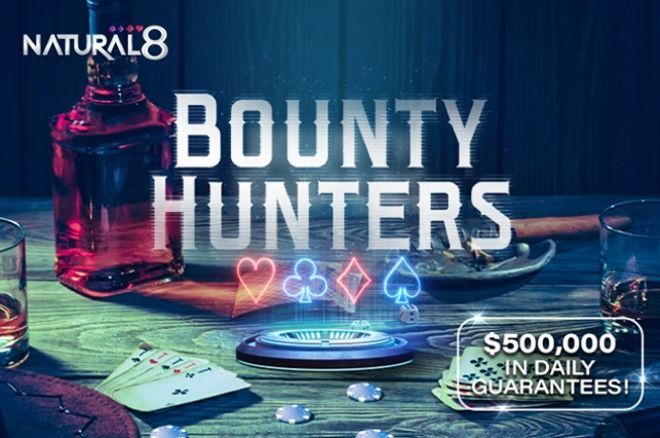 This past weekend a new bounty hunter tournament series kicked off on the GG Poker Network (GGPN) and gave poker enthusiasts from all over the world the chance to polish up their bounty skills in the inaugural Bounty Hunter Series (BHS). The festival runs until October 25th and the first champions have been crowned on Sunday.
Big Field in Beat the Pros Bounty Hunter Edition
A special edition of the Beat the Pros also kicked off on Saturday and the $210 buy-in drew a staggering 1,069 entries, which created a prize pool of $213,800. Only the top 152 spots were paid and unlike in previous editions, several special bounty targets made it into the money.
Among them were Dara O'Kearney, Cristian Stival, GGPoker ambassador Felipe Ramos, Natural8 Team Hot ambassador Pete Chen, Elias Theodorou, Amanda Stanley, Michiel "Easterdamnz" van Elsacker, and Andrii "BabyShark19" Kozlenko. Romania's "crimitzu" made it even further and reached the podium, earning a total of $12,212.50 in bounties and cash prizes. Daniel "BaccaratKing" Neilson finished second for $19,543.12 in total and China's "Mr lu" earned $28,110.04 for their victory.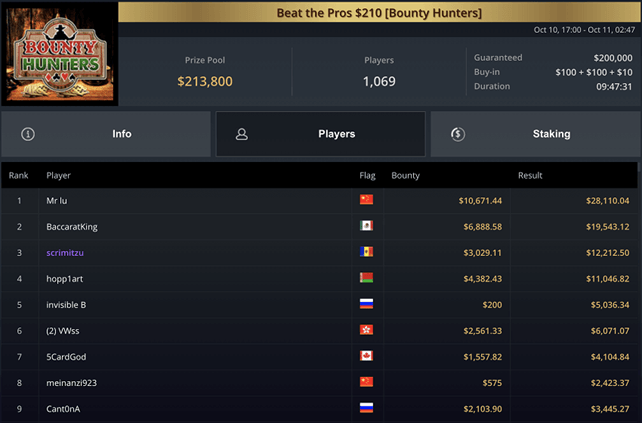 Velvelt wins Opener
A wide range of knockout tournaments makes its debut in the early stages of the series and as the clock struck midnight, the first Bounty Hunter side events such as the Special and Speed Racer took place with buy-ins of as low as $21 whereas the BHS Opener saw a field of 663 entries for the $210 buy-in, which resulted in a $132,600 prize pool.
The UK's Craig Timmis, who made headlines throughout the WSOP Online Bracelet Events, was among the final nine and had to settle for $2,039.99 on his fourth entry. Another notable finalist was "IyasusSake" of Germany, who ended up in third place for $6,732.62. The victory went to Urmo "PidrPan" Velvelt and the Estonian earned $15,990.62, of which nearly two-third came from bounty prizes.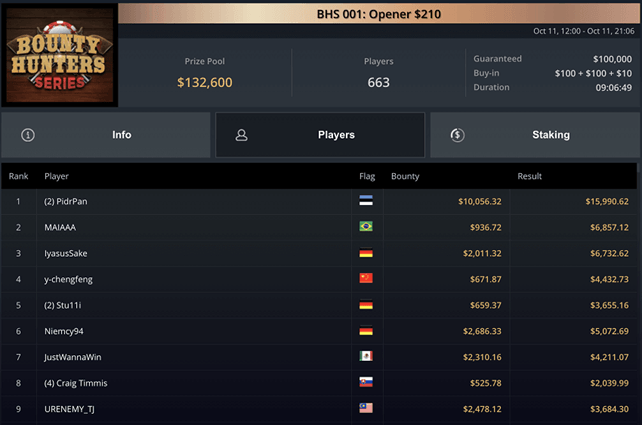 Further BHS Events at a Glance
Japan's "u r a liar" struck a deal in heads-up in BHS #002 PLO 6-Max $105 and took home $6,908.95. In BHS #006 Sunday Battle of Marathon, it took more than 12 and a half hours to whittle down 1,221 entries to a winner as Luigi "shadinho94" Shehadeh finished in second place for $21,952.46. Argentina's Marcio "Nodenuevo" Zacconi topped it all for $36,133.92 and more than half of that came from bounty prizes.
In BHS #011 PLO Main Event $210, a field of 483 emerged and Natural8 Team Hot ambassador Kosei Ichinose finished in 9th place for $1,468.61. Notable finalists included the Canadians Andrey "Farhills" Kazankov and Ami Barer, Frenchman Idris Ambraisse scored the largest piece of the $96,600 regular prize pool and added $16,315.81 in bounties to his bankroll.
Another event that easily surpassed the guarantee was BHS #009 Bounty High Roller SE, as 733 entries bought in for the $525 buy-in to boost the prize pool to $366,500. Big names went all the way including Peter "BIG CHI" Chien (7th for $8,375.13), Fernando "Jnandez87" Habegger (3rd for $17,325.36), and Jans Arends (2nd for $28,480.17). Brazil's Pablo Silva walked away as the winner and banked $37,982.07 for the efforts.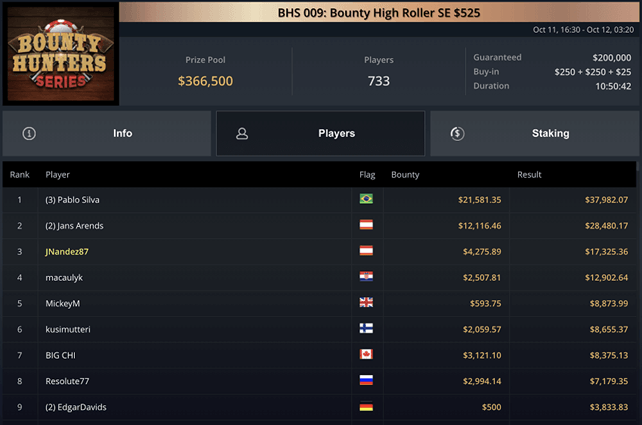 Several other Special and Speed Racer tournaments wrapped up the Sunday session and the action-filled schedule will continue to provide opportunities for poker players of all stakes to take a shot at glory.
PLO High Roller Draws Big Names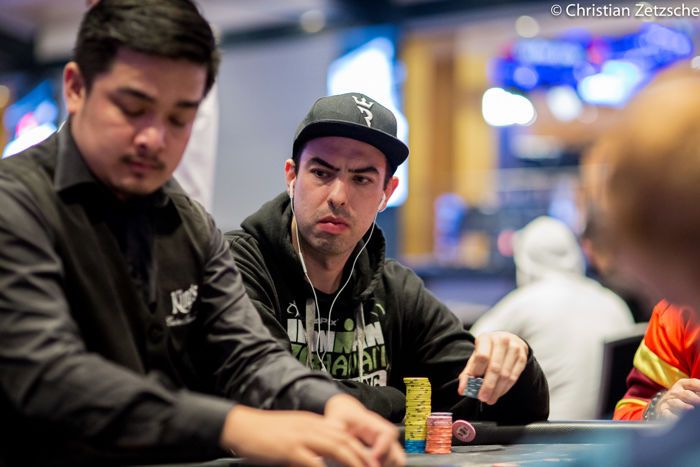 The guarantee of BHS #010 PLO High Roller $2,100 was more than doubled with 116 entries, and the top 17 spots took home a portion of the cash prizes whereas many others earned a piece of the $232,000 prize pool. Alex Foxen and Rui Ferreira were the first to cash followed by Andras Nemeth, Team Bling member Thi Truong finished in 10th place for $3,310.43.
On the nine-handed final table, the likes of Joseph Cheong, Isaac Haxton, Maxi Lehmanski, Ronny Kaiser and Joshua "thefreshest" Mccully all hit the rail. Niklas Astedt finished in third for $19,573.39, whereas Fernando "Jnandez87" Habegger (pictured) went one spot better and earned $30,834.97. The biggest slice was awarded to David "Mclovin86" Mzareulov, who kept his own large bounty and thus scored a payday of $50,670.75.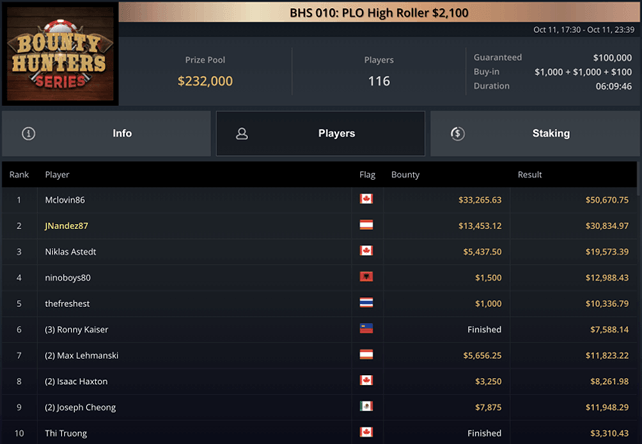 Felipe Ramos Wins Super MILLION$ Bounty Hunters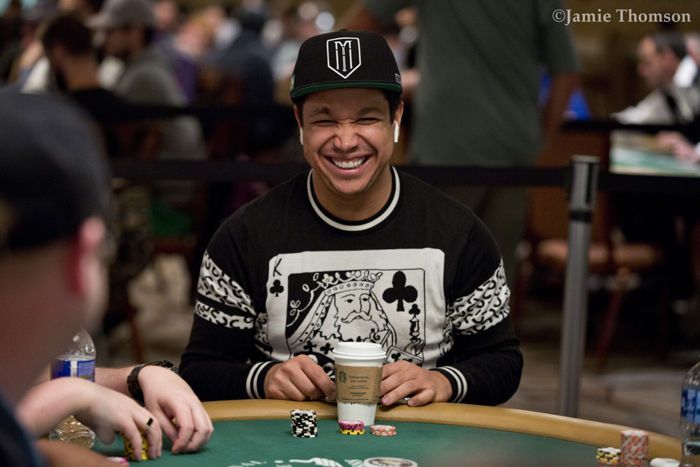 A successful Super Sunday for the GGPoker ambassadors was crowned by the victory of Felipe Ramos in BHS #012 Super MILLION$ Bounty Hunters. In the first bounty tournament edition of the high stakes showdown, the guarantee of $1,000,000 was narrowly missed with 94 entries and the top 13 spots were awarded a portion of the cash prize pool.
Michael Addamo, Ludovic "Gr4vyB04t" Geilich, Andras Nemeth, Julian "DanBiz" Stuer and Pascal Hartmann all earned a profit on their investment. George Wolff only notched up one $2,500 bounty but made it to third place for $71,791.77 total which then set up the heads-up between Ramos and Xue Bin "ilike2goktv" Pang. It was Ramos who ended up as the man with all the chips and a $212.334.44 boost for the bankroll as Pang had to settle for $153,478.38.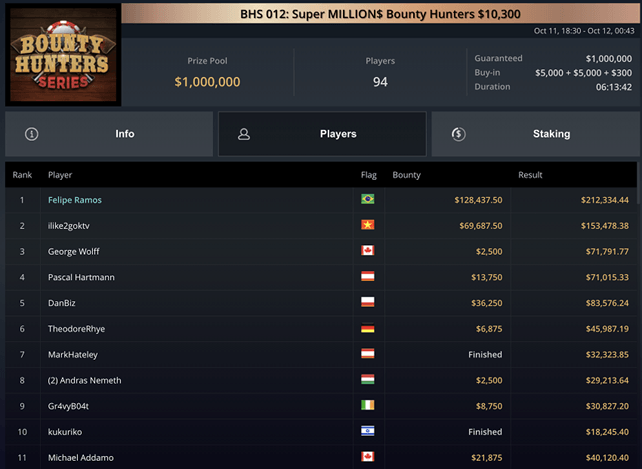 The Bounty Hunter Tournament Series Continues
Progressive knockout tournaments (PKO) has been taking the online poker tournament scene by storm and fans of this tournament format can rejoice with the introduction of GGPoker Network's first ever full fledged Bounty Hunter Series. There's over 500 tournaments to choose from ranging from Texas Hold'em to Pot Limit Omaha, and the newly introduced Speed Racer formats in which all players begin with a starting stack of 10 Big Blinds.
No tournament series will be complete without a Leaderboard and this Bounty Hunter Series is no different. $100,000 in Leaderboard prizes await and a special trophy will be awarded to any Natural8 player who emerges victorious. Don't miss out on this amazing series.
Sponsor-generated content by Natural8