Warning
: Undefined array key "post_type_share_twitter_account" in
/var/www/vhosts/casinonewsblogger.com/public_html/wp-content/themes/cryptocurrency/vslmd/share/share.php
on line
24
Posted on: September 5, 2023, 02:55h. 
Last updated on: September 5, 2023, 02:55h.
Jorge Vilda, head coach of Spain's Women's World Cup-winning soccer team, was fired Tuesday by the country's soccer governing body, RFEF.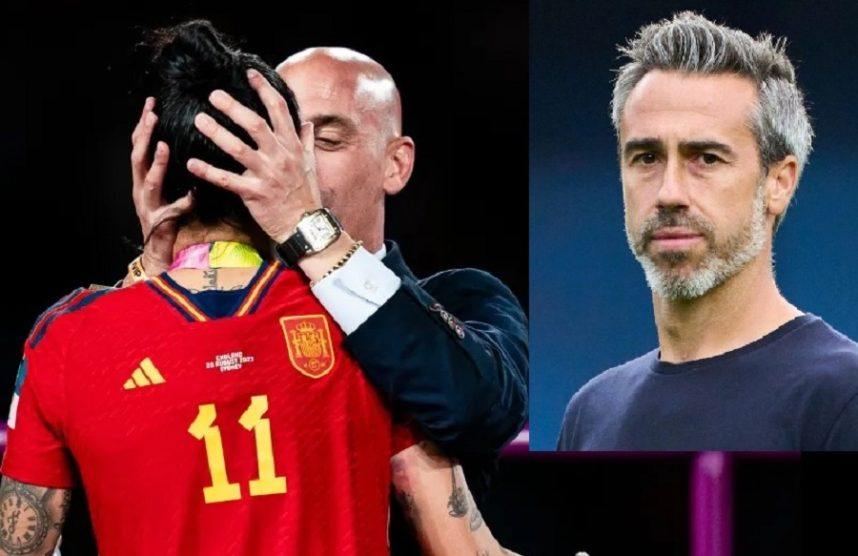 Vilda, who coached the team for eight years, will be replaced by Montse Tome, who will be the first woman to hold the position.
That a coach should be sacked so soon after achieving the game's most prestigious trophy is unheard of, but this was no ordinary World Cup win. Spain beat England 1-0 in a hard-fought contest at Sydney's Stadium Australia. But the victory has been wrecked by a kiss.
Specifically, a kiss planted during winning celebrations by RFEF president Luis Rubiales on the lips of Spain forward Jenni Hermoso, which she said was neither welcome nor consensual.
Close Allies
In an extraordinary speech delivered just days after the final, Rubiales insisted the kiss had been consensual and refused calls to resign. He added that the RFEF would act against the player because of her "lies."
Vilda, a close ally of Rubiales, was spotted applauding the speech, a moment that may have cost him his job.
Eighty-one players, including all members of the World Cup winning squad, refused to play for the national team while Rubiales remained in his position.
Despite his refusal to back down, he was suspended as RFEF president by world soccer governing body FIFA on August 26. The decision to sack Vilda was taken by interim RFEF president Pedro Rocha.
'Renewal Measures'
While the federation did not offer a reason for Vilda's removal, an official RFEF statement described the sacking as "one of the first renewal measures" following the scandal.
"The RFEF appreciates [Vilda's] work at the head of the national team and in his functions as the head of sports for the women's teams, as well as the successes achieved during his time crowned with the recent achievement of the World Cup," said the RFEF.
"We value his impeccable personal and sporting conduct, being a key piece in the notable growth of women's football in Spain," the federation added.
The RFEF was less complimentary towards Rubiales and apologized for the "unacceptable behavior of its highest institutional representative during the final."
"The damage caused to Spanish football, to Spanish sport, to Spanish society and the values ​​of football and sport as a whole have been enormous," the federation said.
Player Revolt
Despite success on the field, Vilda's tenure was not without controversy. In September 2022, he faced a revolt by 15 players who told RFEF they would refuse to play for Vilda unless concerns over their "emotional state" and "health" were addressed.
Just three of those 15 were welcomed back into the fold to play England in the World Cup final.